Carrots, leeks, fennel, broccoli, zucchini… There's nothing better than a nice plate of vegetables to enhance meat, fish or just hummus. But you still need to have time and energy to prepare them. Washing, cleaning… Preparing plants is sometimes tiring. But don't panic, Julie Andrieu has the perfect recipe for an instant fit. And the good news: his recipe doesn't require peeling. As always, on her Instagram account, where she is followed by more than 200,000 followers, the presenter Julie's Gardens (France 3) revealed all the secrets of its preparation. The principle of his recipe is simple and is mainly based on the cooking method: on the stove, in the oven, with ventilation.
Vegetables should completely cover the baking sheet
" It's more than a recipe, it's a way of cooking vegetables that makes them delicious because they don't lose their flavor and vitamins (like in water, for example). They cook by concentrating and producing their own steam ", Julie Andrieva tells in detail in the signature to her publication. For the alchemy to work and for the vegetables not to burn, the plate must be completely covered with vegetables, as the presenter explains. Of course, choose seasonal vegetables: tomatoes, eggplant or zucchini in the summer; fennel, celery, swiss chard or squash in autumn… A great way to diversify your pleasures without cabbage! Tempted by this creation?
You also need to know: Here's Julie Andrieva's tip for easy and original pizza, her recipe is "the best in the world"
Here's a recipe for Easy Baked Vegetables from Julie Andrieu:
Ingredients:
Choose from the following vegetables (preferably organic), depending on what you find at the market or in the garden:
2 bell peppers of any color
1 zucchini
1 eggplant
2 tomatoes or 10 cherry tomatoes
½ broccoli or ½ cauliflower
1 carrot
1 young leek
3 onions
1 small fennel
3 young potatoes (or not)
1 kohlrabi
6 or 7 cloves of garlic in a shirt
3 tablespoons of olive oil
1 tbsp honey (optional)
Oregano, thyme, rosemary, bay leaf
Fleur de sel and pepper
Preheat the oven to 190°C, fan.
Wash and dry the vegetables. Do not peel them (except for celery, zucchini, and those that have a thick skin after a few days, such as carrots). Cut them lengthwise into 2 or 4 pieces depending on size.
Grease the baking sheet with oil. Season it with fleur de sel. Place the vegetables tightly together, but in no case overlap. Fill in the gaps with cherry tomatoes and garlic cloves in the shirt. Season with salt and pepper, sprinkle sprigs of thyme or rosemary and a bay leaf here and there.
Drizzle with 2 tablespoons olive oil. Drizzle with honey if desired, sprinkle with oregano and bake. Cook for 45-50 minutes without touching the vegetables.
Let them rest in the turned off oven for 10 minutes.
Serve as is with a good roast chicken or grilled fish. Or in a vegetable version, with cereals and a cheese tray.
The cooking time depends on your oven, the selected vegetables (more or less long cooking time) and their age. I advise you to stop cooking when they start to darken.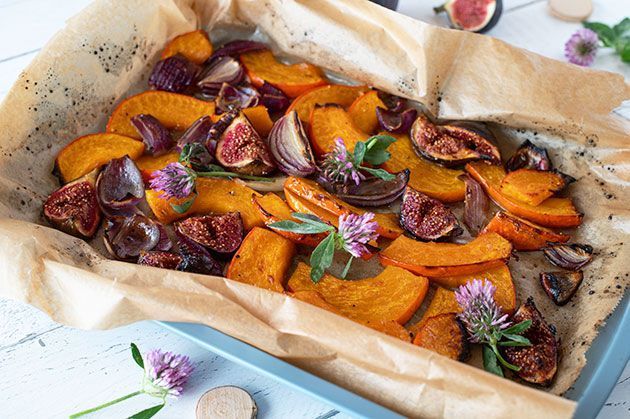 Julie Andrieu's recipe can be adapted to every season.