For 6 people
Ingredients
500 g of ribs
500 g of heels
Scatter 500 g
1 onion
4 cloves
4 cloves of garlic
1 bouquet garni
From 6 to 8 peppercorns
1 tbsp. at coarse salt
5 carrots
5 turnips
3 parsnips
4 white leeks
2 stalks of celery
4 bone marrow
Pour 2.5 liters of cold water into the saucepan. Add the rib dish, ghee and skate. Bring to a slow boil (minimum 10 minutes) and cook for 1 hour, skimming the surface frequently.
Peel the onion and stick the cloves into it. Peel and crush the garlic. Add the onion and garlic to the casserole with a bouquet garni, peppercorns and coarse salt. Bring to a boil again, remove the skins, then reduce the heat and simmer for 2 hours, removing the skins from time to time.
Meanwhile, peel and wash the carrots, turnips, parsnips, leeks and celery.
Cut all these vegetables into large pieces and add to the casserole. Continue cooking for 30 minutes.
Wrap the bones in muslin, add them and cook for another 30 minutes. Regularly run absorbent paper over the surface of the pot to degrease it.
Drain the meat, vegetables and bones and place them in a large deep dish. Strain the broth through a colander. Sprinkle the dish with 2-3 art. a tablespoon of this liquid. Serve with coarse salt, pickles, mustard and toasted brain bread. You can serve the broth in bowls.
Tip: If you need to reheat leftover stew, place it in a stock pot. The meat will retain all its softness.
> Read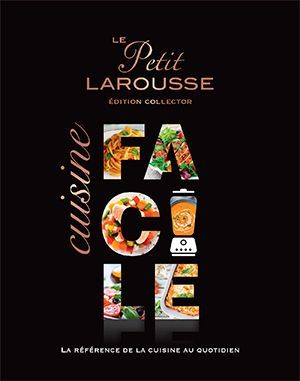 200 basic recipes, from light salads to desserts, including pasta, rice, meat, fish… Le Petit Larousse – Easy cooking offers us simple recipes for everyday meals. There's advice on choosing equipment, stocking your fridge and cupboards or identifying which fruit and vegetables are in season. This week's menu features three generous, comforting, and oh-so-delicious recipes. To your ovens!
Le Petit Larousse – Easy Cooking, collector's edition, 29.95 euros
VERONICA BOUTILIER DE SAINT-ANDRE